The 2009 NAFEM Show, held in Orlando, Florida, this month at the Orange County Convention Center featured several common trends in foodservice products and equipment, including food safety, green/sustainability trends, multi-function appliances, and appliances that increase productivity and decrease prep time.
Tarrison offers an induction range with a concave surface, like a wok. Chefs love induction ranges for their powerful and precise heating capabilities; hotels and caterers are beginning to embrace them for the safety aspect– no open flame. View Tarrison's flyer here.(PDF)
Chef Revival – The fully-insulated Rotissi-glove couples protection up to 350°F with the dexterity needed for easy handling. Chef Revival also offers a variety of chef and service apparel—much more than just your average cook's whites.
Robot Coupe, known for its rugged, high volume food prep blenders, unveiled the new and improved CL50 Ultra. It prepares 1,200 servings in three hours or less and has dozens of attachments for versatile processing.
Hatco – Known for warming equipment, Hatco introduced the Glo-Ray Max Watt Foodwarmer, which holds food at the optimal serving temperature, but with more space and higher clearance. Hatco also introduced a sexy new black heated glass shelf—a heated shelf for self-service with a more modern presentation.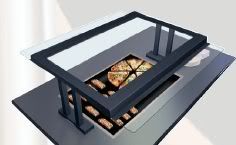 Tradeco – Their trendy square china has been around for a while, but is growing in popularity as chains restaurants struggle to be distinct from their competition. Tradeco also offers a variety of colors in their popular Celebration line of dinnerware.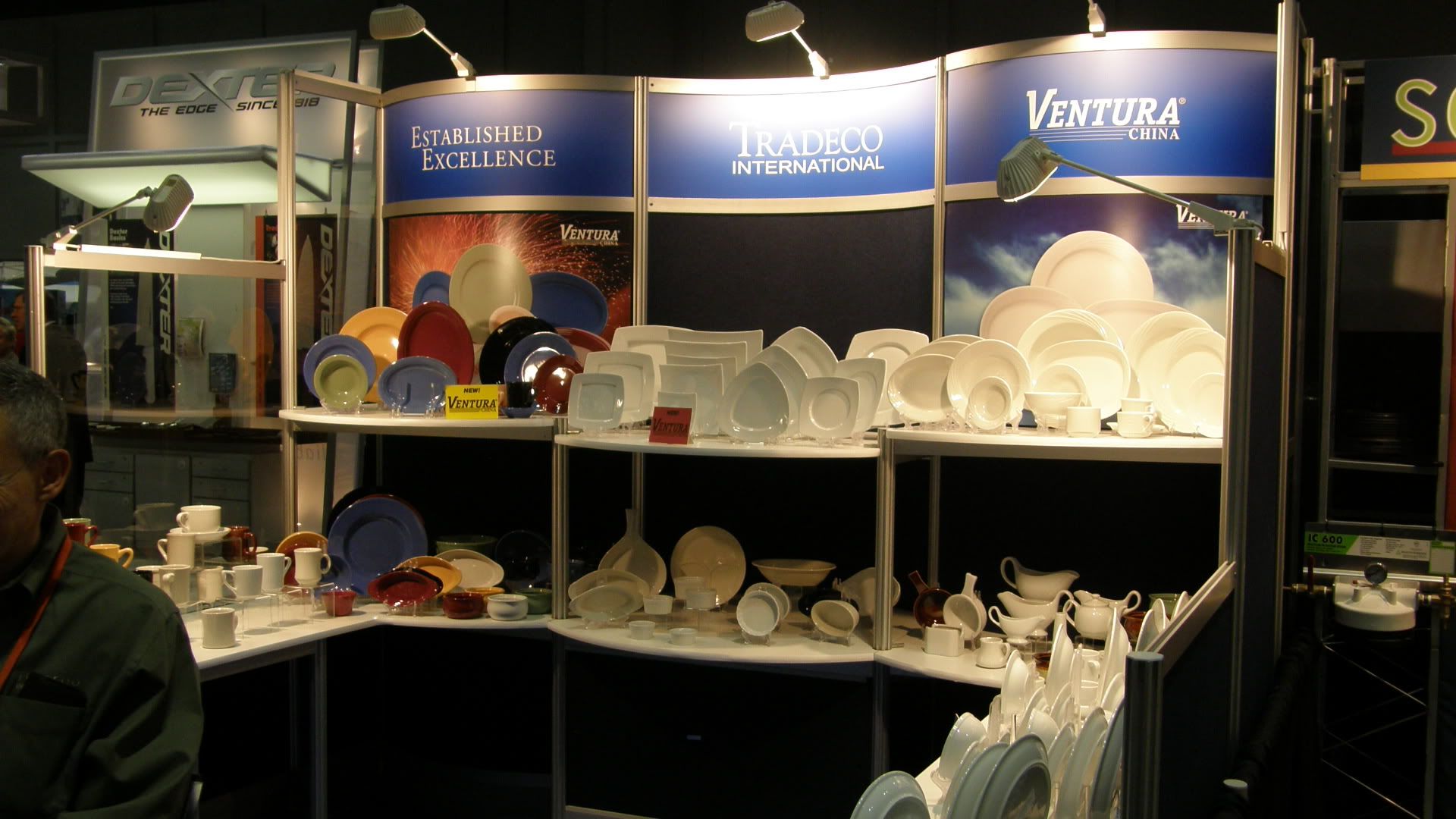 Vulcan unveiled a new Energy Star certified convection oven and hot holding cabinet in one. Operators can now take food straight from the oven and load it into the cabinet for instant hot-holding. This unit offers energy-savings, labor-savings and space-savings—a triple threat!
No more flipping burgers
Vulcan also had on display a gas (or electric) rapid-recovery griddle, now available with an upper plate, allowing the operator to grill on both sides without flipping.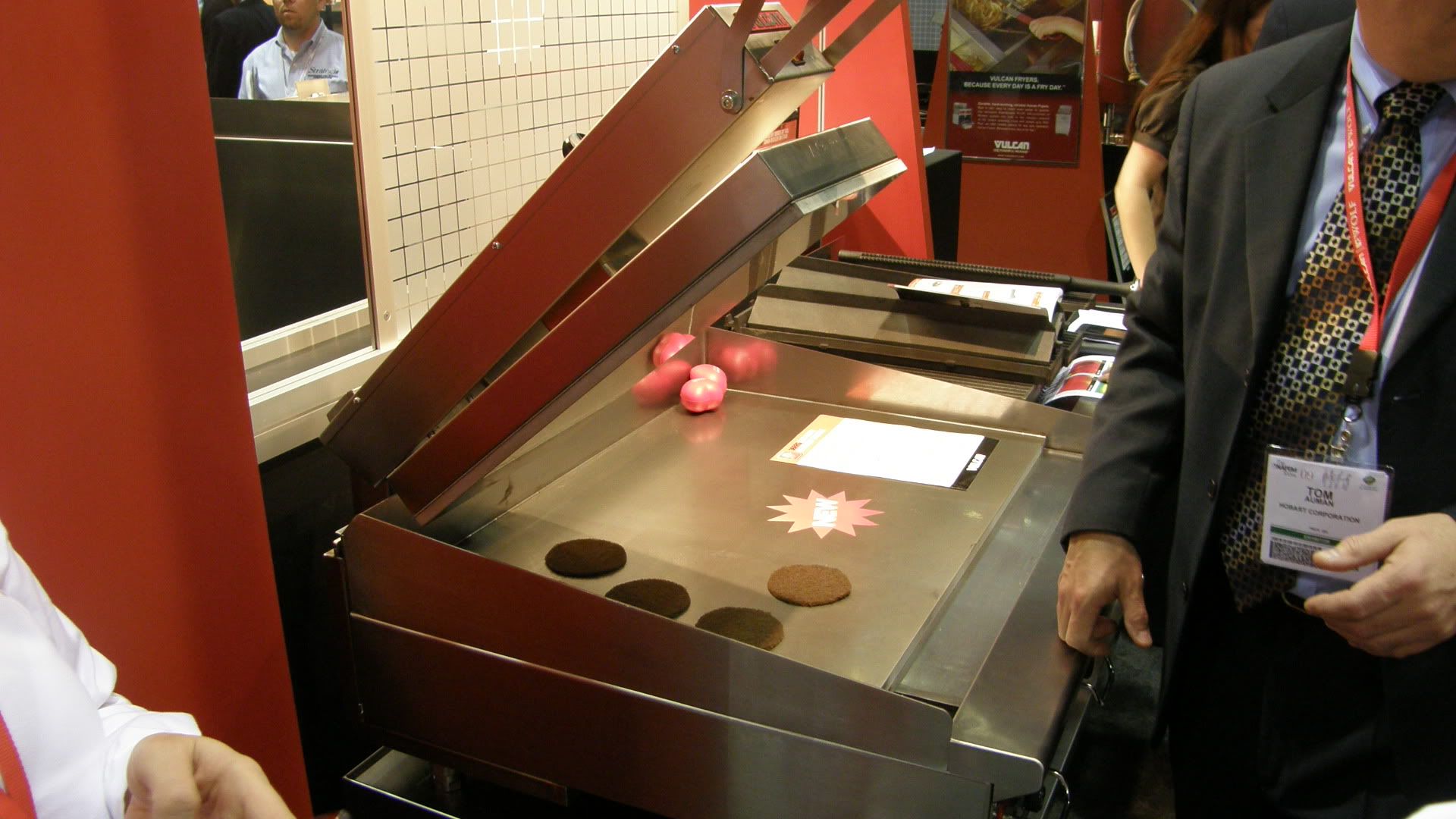 Blakeslee – I got a chance to see how far we've come in dish-machine technology—Blakeslee had on display a dish machine from 1912! The all-manual unit actually had a crank that was used to lower and raise dishes from the tank. Their current line of dish machines are much more advanced—reducing both water usage and the energy used to heat dishwater.
Cleveland Range's new "Mini" Combi Oven Steamer is, obviously, a convection oven and steamer in one, with dozens of capabilities, including cook-and-hold, slow-cooking, and features that allow the operator to program frequently used recipes into the system for one-touch cooking.
Cooper-Atkins offers dozens of different HACCP monitoring systems for food safety, including TempTrak, which provides around-the-clock monitoring and alerts, and user-friendly software for keeping the numbers organized and stored.
San Jamar introduced the Saf-T-Wash Food Sanitizer, designed to thoroughly sanitize product, increasing the shelf-life of produce and reducing costs by eliminating the need for expensive chemicals. The unit attaches to the faucet, using your water line to combine sanitizer with water. It easily switches back and forth from water to sanitizer.
Scotsman's new Prodigy Nugget® Ice Machine is one of the most energy-efficient ice machines available. It's Energy Star certified, and comes equipped with an alert system for operation and maintenance, so in addition to using less water and electricity than typical ice machines, it also helps reduce costs associated with service calls.